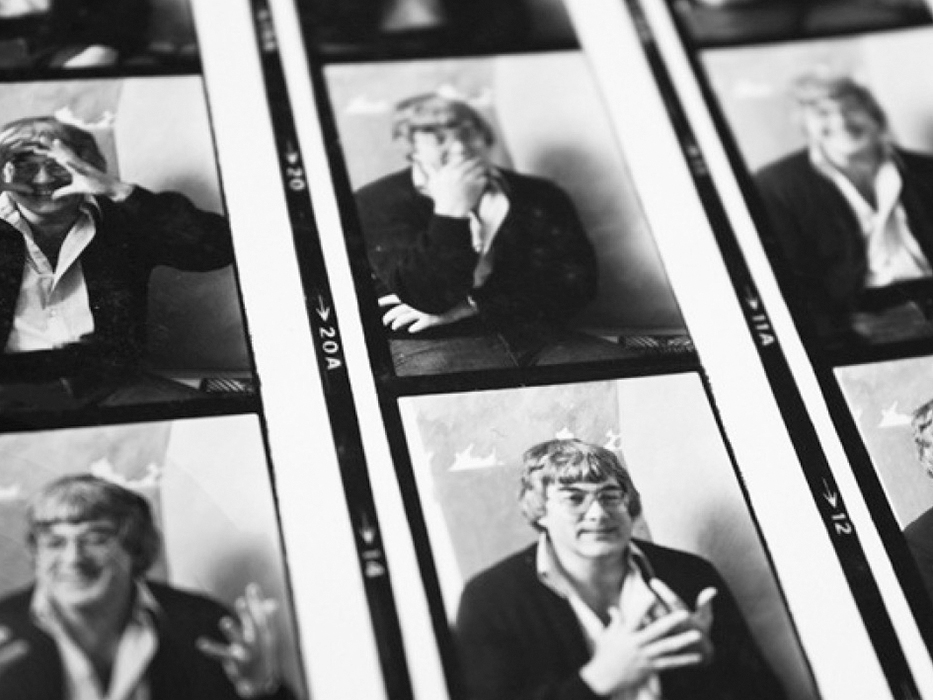 "I am thrilled with the award. Thank you Gary (Wilson).
I live in Cairns. I've got a head cold. As you possibly are aware no head colds are allowed in Cairns. So I am a disgrace.
When I reported my head cold to the Paradise Police, they escorted me to the airport where I was given a little green book titled "Thoughts of our Great Tropic Leader".
When directed to the checkout I was told to raise my left arm and shout, "Long live our Tropic Leader" who is beautiful one day and perfect the next. I was sent to this Brisbane Gulag for a course in revisionism. Part of which is to talk to you for a little more than ten minutes on "The History of the Design Revolution — 30 years of Solitary". I want to focus very briefly on two aspects relevant to the contemporary practice of design — one is the paramount importance of having an historical perspective of design in an Australian context which adds to our sense of place, our sense of national esteem and an understanding of certain individuals contribution to the professionalism of design here in Australia and the USA. Because it is part of my experience and it shaped my attitude and strategy to design practice.
Now of course I cannot do justice to such a subject in just over ten minutes. But maybe some of my words will act as a catalyst for your further interest.
So there is a sort of retro mood to my musings. But remember this, the basics of visual communication in respect of design, don't change — the media does over time — to the now of digital graphic design. Remember also, that I was in my twenties when my thoughts were formed and my visual interest aroused.
The author of a short story I read recently relates a character as "having hands speckled with the brown spots of old age". I am beginning to see the truth of that phrase.
I am particularly pleased to partner my co-recipient, Douglas Annand, in a design sense and fortunately not the position Douglas is now resting. Douglas was an immense talent with many creative branches to it. Interestingly, I doubt whether Douglas would have called himself a graphic designer. He would have preferred simply an artist.
Musing on that for a moment I wonder how enduring is the nomenclature in our constantly evolving occupation — will graphic design endure as a professional umbrella for the many diverse talent differences working under the present title? Does graphic design have pressure of a profession to make it hold as indeed architecture does, or will a trendy name association with computer visualisation emerge as a takeover possibility?
When I initiated the courses in design at the new Sydney College of Arts in the 70's I preferred visual communication as an umbrella, being more generalised for specific learning strands within it.
I note it has some franchise now as a business title. Anyway, whatever the title, Douglas just went his own artistic way.
You have a real responsibility to business and yourself to understand what design is, where it's going, what its social responsibilities may be.
So as the majority of you each working day sit comfortably with a mouse remember that you have an added history, an extension of mine — your own heroes. And you have a real responsibility to business and yourself to understand what design is, where it's going, what its social responsibilities may be.
If you keep a focus for design to be relevant, if you seriously believe in its potential to change attitudes, and if you structure this concern with a visual result that attracts the target audience, then along the way you will design some shit as I did but among this clutter there will be jobs of which you can be proud.
I was told by an American designer friend about a dinner given for that noted style practitioner Raymond Leowy by a phalanx of his former employees of which my friend was one. During the reunion, visuals were shown of the failures and worst jobs completed by Leowy and his team. I am glad this is not the purpose of tonight. I would indeed be chastened if this were so.
When I decided to go to America in the fifties it was contrary to the usual pattern of going to Europe. Australia was very English centric then. I made the opportunity to seek out designers in America, initially by attending the sixth International Design Conference held in Aspen, Colorado in 1956.
There I came face-to-face with names from pages of design books. They became real people talking seriously about design and associated arts. Persons like Saul Bass, FHK Henrion, Armin Hoffman the Swiss educationalist, and Will Burtin.
Herbert Bayer resided in Aspen working on projects sponsored by Container Corporation of America. I was privileged to meet him. It was a revelation to me in my early twenties that such icons could talk about design and the human condition other than just doing it.
The history of design and its relevant theories and practitioners became real to me. I began to appreciate the enthusiasm of Americans for new philosophies, for those who had sought refuge from the rise of Nazism, such as Ladislav Sutner, Will Burtin, Herbert Bayer.
Business supported the methodologies of design these refugees brought with them. I became a member of these and others such as Paul Rand, Lester Beale, Alvin Lustig. They became heroes. There was a sense of unworldly idealism about their philosophies. My early design heroes felt they could shape a better world.
However, one could not argue with the designs they produced — pragmatic and powerful in business efficiency. They strove for visual clarity and new forms of presentation.
Herbert Bayer believed that a designer has a duty within the structure of society to better it. He was still designing for two corporations until his death in his 85th year. I wish.
Alvin Lustig believed that design was the most important thing that one could do in life. I mention Lustig not only because of being a superb designer who died blind at age forty from diabetes (myself being a diabetic) but principally because Will Burtin took over Lustig's New York office.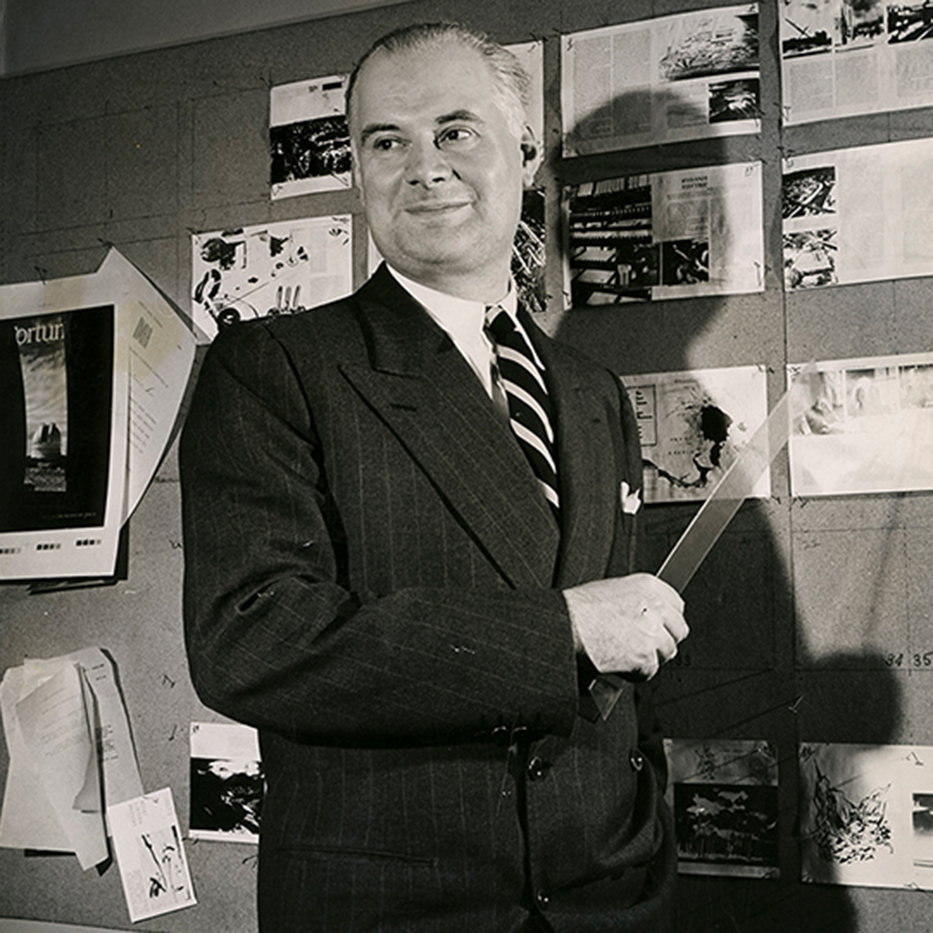 I was assistant to Will Burtin, only three of us and a secretary. Will worked in very small scale often on the commuter train into New York. My role was to enlarge these meticulous cartoons to the real print size, or construct models. Will fled Nazism to New York, taught at Pratt Institute for many years, had long lasting clients like IBM, Upjohn Pharmaceuticals and Mead Paper. These clients believed in his credo — simplify, communicate, teach, learn.
Thomas Jefferson said "to learn how to keep learning is the mark of a civilized man". Paul Rand contributed greatly to my design attitude. In my early years I wrote to him and I remember coming into the small bullpen of emerging agency Briggs and James to find my working friends had set up an altar-like scene of which Paul Rand's reply was the focus.
During other times in America I had the title of Vice President, Director of Design which didn't at the time seem quite real having gone from a one person design office in St Kilda Road. But the title gave me the opportunity to present at high business levels such as the president of the Ford Motor Company. I was surprised at the accuracy of their observations. And the informality of the proceedings.
So, wrapping up on my American focus. For years, an A 1 size gallery poster had adorned my working environs — its white ground now suntanned with age. "Roots of Abstract Art" is the title and it consists of two broad dripping black brush strokes, but it is the placement that powerfully communicates. Robert Motherwell, an American artist remains one of my heroes.
It is ironic that about the same time as these design happenings in America, Australia was developing its roots of design history. And heroes. And many of these were refugees from the events in Europe. They had a harder time of it than their American compatriots. In Melbourne they were forming a sort of underground partisan movement in art and design.
I cannot linger on their activities but it is important to Australia's design history that the persuasions and work of Ludwig Hirschfield Mack in education, Gerhard Herbst and Gert Sellheim in commercial design be more widely known. And the pioneering of early advertising art directors.
In photography I was fortunate to work with Wolfgang Sievers, Helmut Newton, Henry Talbot, Athol Shmith — great talents who through their stubborn creativity contributed much to the foundation of design appreciation. I clearly remember Helmut Newton returning from a fashion shoot and commenting "today I turned shit into gold".
Sculptor Inge King is quoted as saying Melbourne culture was "as lively as a glass of warm flat beer".
Melbourne was the centre of early design thought Australia. Many emigres chose that city. To most it was a severe culture shock and there wasn't the quick take up of intellectual or pragmatic design ideas as there was in America. They had a hard time of it. Sculptor Inge King is quoted as saying Melbourne culture was "as lively as a glass of warm flat beer".
One Englishman however, did have a real impact on design in Australia. He came with a professional reputation and chose to settle in Melbourne. He used his Englishness to good advantage. Melbourne was receptive. His was a powerful intellect, bloody awesome in fact, allied to a prodigious talent. He accepted me as a neophyte in his newly formed advertising agency Briggs and James and encouraged my growth as a designer. Richard Haughton James is the patriarch of design in Australia and a true hero to me. Too little is known about his design work when he had his office in Collins Street, Melbourne.
Richard Haughton James' work for the Victorian Government Tourist Bureau windows in Collins Street always gained the public attention they deserved. And his packaging redesign of the Nicholas ethical range was one of the first design branding in Australia. Jimmy allowed me to work on the finished art of these. There are many benchmarks in the history of Australian design, but one that must be mentioned is the ACIAA (Australian Commercial and Industrial Arts Association). Full of unsung heroes in its early days as a union for the betterment of commercial artists conditions and the exhibits of members work culminating in the publication of annuals. Many worked unselfishly on these and today these books provide a visual history. Without them we would be the poorer.
And whilst in this reflective mood let me thank the illustrators, the photographers, the lettering artists, the finished assembly persons, the art directors and account people who made my work look much better than it would have been. I owe them much gratitude for contributing their art craft and client persuasion to my visual communication.
These warm fuzzy reflections must end.
Typography is the linchpin of good graphic design. One of its ingredients is restraint — an inherited discipline by reason of an appreciation of the superb typographers gone before us.
Many computer designers are like children splashing colour around or as Paul Rand says aimlessly sprinkling Lilliputian squares. I could add random placed thin rules, that are about as useless as goal sticks on the centre wing of an AFL ground.
We as designers should be seriously working at a contemporary disciplined approach to computer generated imagery — a balance of design history with the visual technologies available to us now. And forming new strategies for communication design.
Typographically speaking, the new technologies give us ease of refinement, unimagined by our design heroes.
The current telephone directory covers, exhibit design faddishness at the extreme — where effect takes over from quality visual communication — no idea, no form. Where technology gimmickry is rampant.
As a general observation from my years as an academic it was evident that the student was more interested in the techniques of arriving at a commercial visual communication than the history of design developments. Technique it seems to me has overtaken content. This will change. A college or university which has a course in design will see the marketing benefit of structuring a discrete learning strand in design history. The lecturer will metamorphose from a practitioner to more of a philosopher, developing enthusiasm in the student for the strategies of early design exponents and the cultures in which these design thoughts developed. And exposure to other learnings that will influence our ways of seeing. The Bauhaus had a sort of lecturer bridge. Walter Gropius found it necessary to hire two masters for each workshop, one to teach technique and one to teach form and theory and strategies.
Out of a serious engagement with design history and its heroes, emerges another step forward in visual communication.
Out of a serious engagement with design history and its heroes, emerges another step forward in visual communication. If one doesn't have this underpinning there is no sense of imposed design discipline and work becomes decorative, modish and mannered, or at the other extreme simply banal as if any design thought passed it by. As designers we need this perspective and discipline to balance the cornucopia of illustrative directions available via computer software.
To sort out the valid from the vapid. We should hasten to establish our commercial credentials. Soon.
Every activity has its history and its heroes, and advances as a profession because of this knowledge. Architecture is a good example. It is the darling of the media now, because it has a valid history from which it has grown culturally and aesthetically.
Graphic design will disappear as a stand-alone profession if it does not have a well-founded history or heroes. Either it will be absorbed into architectural practices as an ancillary of their services or as a junior arm of marketing or branding groups.
So whither the graphic designer.
Using my experiences I have tried to give a brief outline of credentials for graphic design and have expressed the hope that these will become better known and more widely disseminated to the public via associations such as AGDA and learning institutions.
I thank Gary Wilson of Paperpoint for being the channel of this communication for the sponsorship of the Hall of Fame Award.
To Max Robinson for his tireless interest in Australian design history.
And to you the audience, for such sufferance. Thank you."
Arthur Leydin (24 June, 2000)